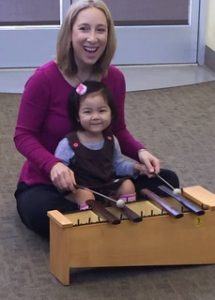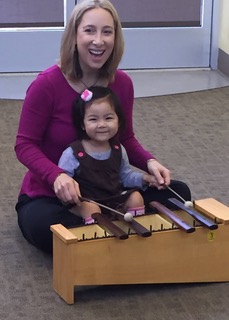 Welcome to our Suzuki Early Childhood Education (SECE) online music program!
Our classes provide an excellent foundation for later learning, music appreciation and instrument study. Children sing, move and play through a sequential curriculum that is designed to engage them physically, emotionally, socially and cognitively.
We believe in the early development of ability and in the unlimited potential of every child.
Join us for weekly "parent and me" style online at home music classes for prenatal, newborns, toddlers, and preschoolers. Our classes are open to children ages 3 weeks to 4yrs11mo and their parents and/or caregivers and introduces children to the joys of making music.
Register Now! Fall Session begins Sept 12, 2023. Tuesdays, 10AM – 11AM Pacific
Observe an ONLINE Music class for babies & toddlers for FREE!
Email Alyse for a FREE 30 minute Online Baby class observation. Then look for emails to give you the Baby Class Zoom link to use on ANY Tuesday morning that we're in session, beginning at 10:00AM (Pacific.)
You will also receive information about how to prepare for observing the class. (We made that easy for you!)
Baby toddler music class can become one of the most engaging and fun activities you and your child will do together.
It's an opportunity for both of you to become lifelong learners together.
Most importantly, you can develop a deeper relationship with each other through the class activities as they become part of your lives.
Alyse leads the class in exploring pitch and rhythm on kid-friendly instruments. We sing, dance, drum, chant, rhyme, count, take turns, read, and listen to great works of classical music. At the end of each class parents have time to reflect and write a comment on their own child's successes that day.
We encourage parents to embrace their role as their child's most significant teacher and help them observe and celebrate their child's social, emotional, mental, physical, and musical development. We introduce parents to the Suzuki philosophy and the 7 Suzuki ECE concepts:
Every child can learn
Ability develops early
Environment nurtures growth
Children learn from one another
Success breeds success
Parental involvement is critical
Encouragement is essential
"Fathers and mothers are the main persons in education. who else foster their own children but parents? The responsibility and joy both belong to the parents." – Dr. Shinichi Suzuki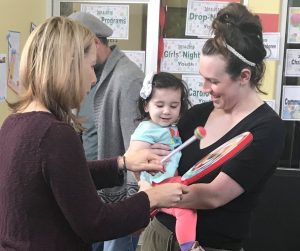 Class Guidelines
For children ages 3 weeks thru 4 yrs, 11mo..
We recommend one child may attend with each parent (flexible for online classes)
Dress comfortably for sitting on the floor as well as moving around
Please be prepared to remove your shoes and your child's shoes for class
Curriculum
Each class includes activities involving singing, listening, walking, marching to music, clapping rhythmically, playing drums, listening to triangle, woodblock, xylophone, glockenspiel and other percussion instruments, counting, social interaction, free creative movement to music, reading a storybook, parent education and journaling.
Skills
Creativity, attuned listening, increased attention span, understanding pitch, respect for instruments, singing on pitch, counting orally, leadership, memorization, communication, sharing with others, patience and self-control, ability to follow directions, fine and gross motor skills, language and vocabulary, recognition of sounds and rhythms, sensitivity and respect for others, xylophone and glockenspiel techniques, ability to repeat sequences of sounds.
All families who want to do the work of learning are invited! We strive to make our music program a safe and productive place for people of all learning styles, backgrounds, identities, orientations and family structures.
Register Now! Fall Session begins Sept 12, 2023. Tuesdays, 10AM – 11AM Pacific!