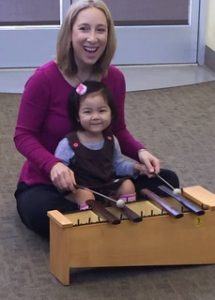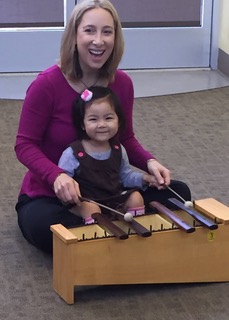 Welcome to our Ojai Suzuki Early Childhood Education (SECE) music program! Our SECE classes provide an excellent foundation for later learning, music appreciation and instrument study. We believe in the early development of ability and in the unlimited potential of every child.
Join us for weekly "parent and me" style music classes for prenatal, newborns, toddlers, and preschoolers. Alyse leads the class in exploring pitch and rhythm on kid-friendly instruments. We sing, dance, drum, chant, rhyme, count, taking turns, read, and listen to great works of classical music. At the end of class, parents have time to reflect and write comments on their own child's successes that day. Each session features music by a guest artist.
We encourage parents to embrace their role as their child's most significant teacher and help them observe and celebrate their child's social, emotional, mental, physical, and musical development. We introduce parents to the Suzuki philosophy and the 7 Suzuki ECE concepts:
Every child can learn
Ability develops early
Environment nurtures growth
Children learn from one another
Success breeds success
Parental involvement is critical
Encouragement is essential
The most recent study comparing Suzuki Early Childhood Education classes with a passive listening class found that after attending classes for 6 months, Suzuki ECE babies (6 months to one year old) are more comfortable in social situations, smile more, feel less threatened by new experiences, and demonstrate pitch and language discrimination.  Check out "Babies' brains benefit from music lessons, even before they can walk and talk" in  Science Daily.
For more information, please visit the Suzuki Early Childhood Education site.
Register for the next  class – Coming soon to Ojai, CA!
A Suzuki Early Childhood Education Music Experience
Ages: 3 weeks – 3 years, 11mo
Dates: Tuesdays, 9:30 – 10:30 am
Canyon Country Community Center (MAP)
18792 Flying Tiger Drive
Santa Clarita, CA 91387
Register online at the City of Santa Clarita website.  Search for "Suzuki".  Call the registration staff at 661-250-3700 during office hours (M-F 10 am – 8 pm and Sat 10:30 am – 1:30 pm.) The materials fee includes a parent handbook and a CD of the songs and nursery rhymes used in class so families can sing along at home.
Call 661-510-7506 or email us for a Free Trial class!
Sponsored by the City of Santa Clarita Seasons Program.