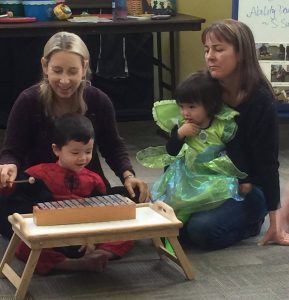 We appreciate the kind words from parents and others who have enjoyed our Early Childhood Education programs.

"Today our daughter Chloe Schutte graduated from her Suzuki ECE music classes with Alyse Korn. What a wonderful experience!! This class has prepared Chloe in so many ways, musically, socially and academically. She is now ready to enter Preschool with confidence next week! She has already been observing her big brother's piano lesson with Alyse in preparation for her OWN piano lessons. Thank You Alyse for giving Chloe an amazingly memorable first experience with music!"
—Jen and Aaron Schutte
---
"My first son started Suzuki ECE music class as an extremely shy child and now has become a confident and outgoing boy. The growth that he has gone through is truly amazing! The time that he and his younger brother (7 mo) have had in class together has created such a special bond. I am so excited for his younger brother to continue on in class!"
—A. Sowers
---
Positive success! My 6 mo granddaughter clearly responds to the beats, the volume, your reading, the other children's behaviors. She is developing rhythm, attention span & vocabulary. Thank you! Fabulous class! A+
— Barbara R.
---
We started your Suzuki ECE music class as a complete novice. Your teachings have helped to make us better parents and developed a special bond with music relating to our everyday life. I'm forever grateful for stumbling upon your class in the SCV Seasons magazine. Lola, Gary and I have learned so much from participating in your class. We are all looking forward to the next step in this special bond we have found with you and your teachings.
—Melodie Chipley
---
"I'm amazed at how responsive my 3 month old son is to the activities and interactions in Alyse Korn's class, Suzuki Early Childhood Education Music Experience. It has been a great experience to watch him observe the older toddlers and parents so intently. In just two classes he was grasping the mallet to create rhythms on a drum and melodies on a xylophone. It has been great for me as a new father to interact with other parents and their children. Alyse's gentle demeanor and deep knowledge and experience in music education are a welcome pairing for all the children and parents in her class. I look forward to enrolling again in the future. I can't recommend this program enough."
–Marcus Watkins
---
"I contacted Alyse Korn, a Suzuki piano method teacher, for my 3-year-old daughter since I knew that the method had already worked wonders for my 14-year-old daughter. Alyse Korn's Suzuki Early Childhood Education music class for children 0-3 years old is an excellent introduction to the wonders of music. Learning children's songs with simple and fun lyrics is never ending fun in class. The numerous musical instruments that Alyse Korn introduces to her students are fascinating. Learning about rhythm, tempo and controlling the volume of your musical instrument become a natural process in class. Structure and following instructions closely are fundamental in Ms. Korn's class. My daughter was rather shy at first and wouldn't participate, but now she is genuinely looking forward to music class, sings the songs at home and is very open to social interactions with her peers. Alyse Korn has an unusually soft and reassuring voice that children respond very well to.She understands and successfully practices the principles of pedagogy with young children. I feel that after each class, my daughter's horizon has opened up a little bit more and the woderful world of music has become more of an integral part of it. Thank you Alyse for your wonderful teaching, for the kindness you extend to children and for the passion you manifest towards music."
—Georgina P.
---
My 2.5 yr. old daughter and myself truly enjoyed being a part of and participating in the Suzuki Early Childhood Education music class. She'd enter the class with such an enormous smile! How excited she would get about playing the instruments, learning and practicing tempo and moving to the rhythm in her own special way. I appreciated the classical music played in the class as well. Alyse Korn as the teacher plays such an important role in the success of this class. Alyse understands how children can better learn in a patient and nurturing environment. It's wonderful seeing a teacher take such a personal interest with your child. I am planning on continuing my daughter's music education in private piano classes with Alyse as well. We just loved this class!!
—Ari G.