We love hearing from parents and adult students!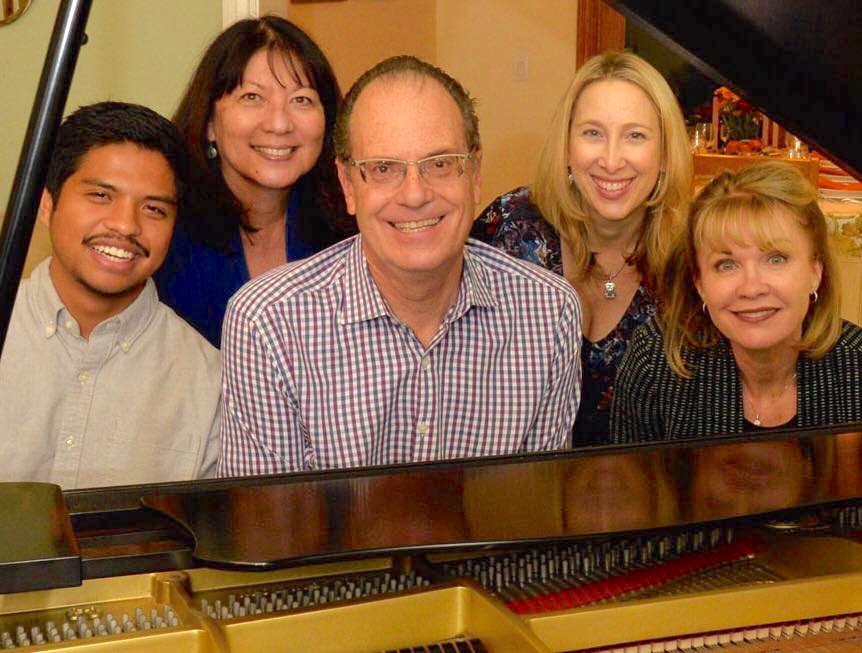 I couldn't be more pleased with the progress of both of my children. I have a three and four year old who started in the Suzuki Early Childhood program and soon moved into the Suzuki Piano. Not only have they learned so much about piano and music but also life skills like discipline, patience, and resilience. I would recommend Ms. Alyse's program for anyone who wants to give their child lasting skills, which can help them for life and enrich their experience.
Alyse is a wonderful piano teacher for children and adults. My daughter and I started piano lessons with Alyse over 15 years ago. My daughter received a priceless introduction to piano and music theory which carried her through her high school, college and now her master's in music. I played piano in my younger years and decided to reintroduce myself to piano. She reignited my love of piano and gave me the confidence to play music I never thought I could master. Alyse is an incredibly talented pianist, and a great piano teacher for children and adults. I feel very lucky we found Alyse!
Alyse enables me to enjoy music again. I'm in my 60's and had not played the piano in about 40+ years. She allows me to focus on the pieces that have meaning to me, and helps me to bring out the beauty in each piece.
Thank you for all you have done for me. Thank you for inspiring me and giving me the pushes I needed to see my full potential. I can't express to you how grateful I am. You have changed my life, which I know will be filled with lots of music and happiness. Thank you for being a wonderful teacher, mentor, and friend.
Alyse Korn is a fabulous piano teacher! She is patient with the students, yet firm and able to keep them directed. She uses the Suzuki Method quite adeptly. She inspires the students to learn using a variety of techniques that are fun and challenging. My daughter began lessons at FOUR! After almost two years, she continues to enjoy her lessons and has developed a musicality beyond her years. More importantly, Alyse has helped her to develop an intrinsic motivation to practice! Now that makes a parent's heart sing! I would highly recommend Alyse…she is a great teacher for students of any age!
Alyse has taught piano to my two children for five years. She's an extremely experienced Suzuki teacher that emphasizes detailed listening, body mechanics, and modeling. She's a holistic educator that creatively draws from her diverse musical training and experience teaching babies to adults. Her passion for music and love of teaching exudes and is a wonderful example for all.
Alyse is not only a talented pianist but a wonderful instructor. My son can be difficult to work with. He is on the Autism Spectrum. Alyse has the patience and understanding needed to guide him through the lessons. He has made leaps and bounds with his technique and performance. He goes to his lessons with a smile on his face.
My children and I have been blessed to have Ms. Korn as our piano teacher during the last five years. She is a polished performer, combining virtuoso technical ability with a comprehensive knowledge of music, theory, and history. In addition to teaching us how to play piano, she has taught us how to listen to music. Since I have been her student, I consistently hear new aspects of songs that I had listened to many times before. Ms. Korn also is an outstanding teacher, who is able to effectively communicate her knowledge of the piano to her students. She has the unique ability to relate to students of all ages and skill levels. Her students progress as she sets goals that are both challenging and realistic. At recitals, it is evident that she has prepared her students to be comfortable when performing. Ms. Korn gets my highest rating. I enthusiastically recommend her!
My daughter began taking lessons from Alyse last year. She has definitely brought out my daughters love of music. She loves the positive praise and gentle guidance Alyse gives her and it motivates her to practice and always do her best. Lessons are given in such a calm, peaceful and nurturing environment that I firmly believe that each child is enriched in so many ways. Her method of teaching provides the child with confidence that they can accomplish any musical challenge presented to them.
The Suzuki method she applies of having the parent involved in the process of not only the piano lesson itself but also with the practices at home is highly effective. The benefits are quite evident when you see not only how highly invested your child has become to playing great music, but also how happy they are that their parents are involved in something they have come to enjoy and take pleasure in doing.
To say that I highly recommend Alyse is an understatement. If you are looking for a teacher to not only teach your child piano but to nurture them as a person, she can accomplish this all from the very first lesson your child experiences with her. I definitely saw results and improvement not only in my daughters listening and memorization skills, rhythm and timing, and musical ability but also in her goal-setting skills, confidence and self-esteem. I could not have asked for a more well-rounded piano teacher for my daughter.
As many of the other reviews explain, Alyse does have a great way with her students. She is kind, patient, and enthusiastic. She is always complimentary so my children always come out of her lessons feeling better than when they went in. They come away with a sense of having accomplished something. She also teaches her students professionalism in performing so they always look and sound great when performing at school events or other non-studio events. And they are learning music theory as well!
I've been taking piano lessons from Alyse for about 2 years now, and have made amazing progress (to me). I'm an adult returning student after 35 years. Alyse is very perceptive and knows, from all of her wonderful experience, exactly what I need to do to improve. She tailors her lessons to fit the needs of her students.She is very patient and knowledgeable.
My son started his piano lesson with Alyse Korn when he was in 5th grade. I thought he was not going to make it, seriously, but the days passed by and my son was getting better and better. He really wanted to finish his new pieces quickly. He loves to play the piano. He has passed five levels of Certificate of Merit with branch honors, performed at the MTAC state convention, and won the competition of Southern California Junior Bach Festival, Santa Clarita Valley Branch. My son has a very good teacher. She encouraged him to develop the discipline to interpret a musical piece to the best of his ability. She is full of enthusiasm and an amazing piano teacher. Her music is full of love and energy. I really enjoy the time I spend listening to my son and his teacher playing duets. My son has been with Alyse for 5 years now. I always recommend her to everybody.
The first time we met Alyse was ten years ago, after having observed 2 other piano instructors. My daughter was six years old, and she had been ready to leave 15 minutes after observing the first 2 instructors, but she was smitten with Alyse's way of teaching. My daughter did not want to leave even after one hour of observing Alyse teach. In hind sight I believe that my daughter found a kindred spirit in Alyse, she was just the right piano mentor for my daughter. Alyse's calm, patient and kind way of teaching and correcting were just what my daughter responded to.
It has been a wonderful ten years of learning music theory through music mind games and workbooks, ear-training and proper hand placement. As well as experiencing learning through group classes, performing at recitals, and master classes. My daughter has really enjoyed learning to play all the songs in the Suzuki books, as well as playing duets which Alyse especially picked for her and a friend of similar age and level, also taking lessons with Alyse.
In the beginning I only wanted piano lessons for my daughter for connections between right and left brain and because the Suzuki Method appealed to me. After reading Dr. Suzuki's Nurtured By Love I realized there was more to the Suzuki method. Ten years later, I know I got so much more. In part, through our experiences with Alyse, my daughter has also learned many life lessons, such as: making and keeping a commitment, working in a group, really listening, kindness, respect for others, practice makes perfect and time management to name a few.
People today are like gardeners who look sadly at ruined saplings and shake their heads, saying the seeds must have been bad to start with, not realizing that the seed was all right, but that their method of cultivation was wrong. They go on in their mistaken way, ruining plant after plant. It is imperative that the human race escape this vicious circle." Dr. Suzuki.
The SCV valley is very lucky to have such a kind and talented Suzuki teacher/gardener as Alyse.
Alyse has been teaching piano to our two daughters for quite some time. She has this wonderful way of making the piano lessons fun. She is a very positive and nurturing teacher. Alyse's love of music has and continues to inspire our girls. They love music more because of Alyse and I am so greatful for that. It's wonderful to go to her recitals and see how much her students (including our girls) excel every six months. I highly recommend Alyse to teach anyone piano…young or old. 🙂
I don't know where I would be without my 9 years of piano lessons with Alyse. Not only did I learn how to play an instrument in the most beautiful way possible, Alyse's piano lessons gave me to tools to be successful later in life. I learned how to be patient with myself and work with others in a truly unique learning environment. I highly recommend the Suzuki Piano School of SCV to anyone looking for an exceptional piano instructor and a great long-term experience with music.
My daughter Rachel is 5 and has taken piano lessons from Ms. Alyse Korn for less than 1 year. It's been absolutely a wonderful, amazing journey for her! I watched her learn little by little via the easy, fun yet effective way that Alyse taught her. I was impressed by how patient and gentle Alyse is to the littles ones! My daughter adores Alyse so much and always looks forward to go to Alyse's studio for the lessons and parties. She loves to play at the recitals! I could not believe how beautifully my 5 year old can play. I am glad that I found Alyse to teach my daughter. I would rate her the No. 1 piano teacher and strongly recommend to every parent!!! My son took Alyse's toddler SUZUKI music classes last year when he was 3 and I would receommend that to all parents with toddlers too, especially those parents who want their toddler to learn a musical instrument in the future. It's definitely fun for the kids and it will benefit the kids so much for their future music study. My son still remembers how much fun he had at the class though he doesn't know he was learning classical music! He'll start taking piano lesson soon!
My two daughters have been taking lessons from Alyse for 4 1/2 years now. Over the years, she has consistently provided a nurturing, positive and always appropriate environment for their individual growth and development, always towards the goal of "love of music." She ALWAYS encourages them to do their best, and remains ever flexible to the needs and interests of each of my children. Alyse has an amazing ability to provide guidance and support, and continues to bring fresh ideas and methods which keep their interest and enthusiasm up, which is not an easy thing to do! Alyse goes well beyond the call of duty when it comes to providing emotional and instructional support and encouragement for her students, and will make herself available as the need arises to respons to her students needs – she has even made daily calls to calm them down and provide feedback on their difficulties with a particular piece of music (over the phone) during the week leading up to the annual Certificate of Merit exam! I cannot say enough about her abilities and commitment to teachinig. I enthusiastically recommend her without reservation to anyone who is looking for a piano teacher.
I was under the supervision of several teachers before I met Alyse, for a period of several years. When I began taking lessons from her, I was already in my teens, stubborn and set in my ways. But Alyse turned my bad habits around, and after five years, the changes she made in my musical career are astonishing. But Alyse's reach doesn't stop at music; I've been able to discuss things with her as a friend, and someone to look up to. Now, I'm graduating from high school, and moving off to college. Had I spent those last five years with a different instructor, I doubt if I'd still be taking sheet music with me. 
My daughter Cassidy has been taking piano lessons from Alyse since she was 2 1/2 years old. She is now 6 and has enjoyed her sessions each time and has a very good relationship with her teacher. Alyse is very patient with children and takes the time to explain the pieces and correct mistakes in a way that is not demeaning to the child. She also takes the time to develop a relationship with the parents as they are major parts of the child's learning. The classes combined with monthly piano parties and annual recitals allow the children to have a well rounded experience and be part of a social network as opposed to isolated students. I have enjoyed attending the sessions along with my daughter and would and have recommended her highly.
As an adult who is just beginning to study the instrument, I feel extremely fortunate to have found Alyse. She is a remarkable teacher and very intuitive about her students' requirements from recognizing the areas of weakness (and assisting with encouragement) to noting the strengths.